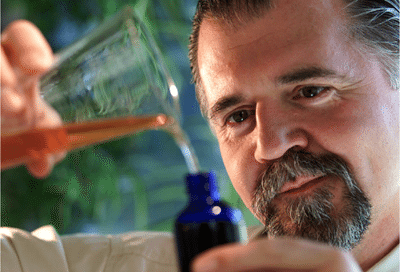 Blaine Andrusek was one of the earliest graduates of the Master Herbalist program at Wild Rose College of Natural Healing in Calgary, AB.
Although mostly a hobby interest at first, ten years later Blaine gave up other interests in favour of becoming a full time teacher, public speaker and practitioner.  He has been teaching all manner and aspects of Herbal medicine since 1981; including Herbology, Wilderness Survival, Botany, Herbal Pharmacy, Aromatherapy and Wild-crafting and was faculty at Wild Rose College for many years.
A focus on essential oils captured his interest, and Blaine was soon formulating and supplying fellow herbalists, aestheticians and massage therapists from coast to coast, and speaking to eight to ten audiences a week.  With over 300 unique Herbal/essential oil blends, his life work is now focused on education.
From children's summer camps to Elder Hostel, numerous massage schools, television work, and eventually keynoting national and international conferences, Blaine has had an extremely diverse and rewarding career.  He continues his practice in Calgary, AB, Canada.
Learn more about Wild Rose College Alumnus & Aromatherapy Educator Blaine Andrusek. http://herbalccha.org/?page_id=127