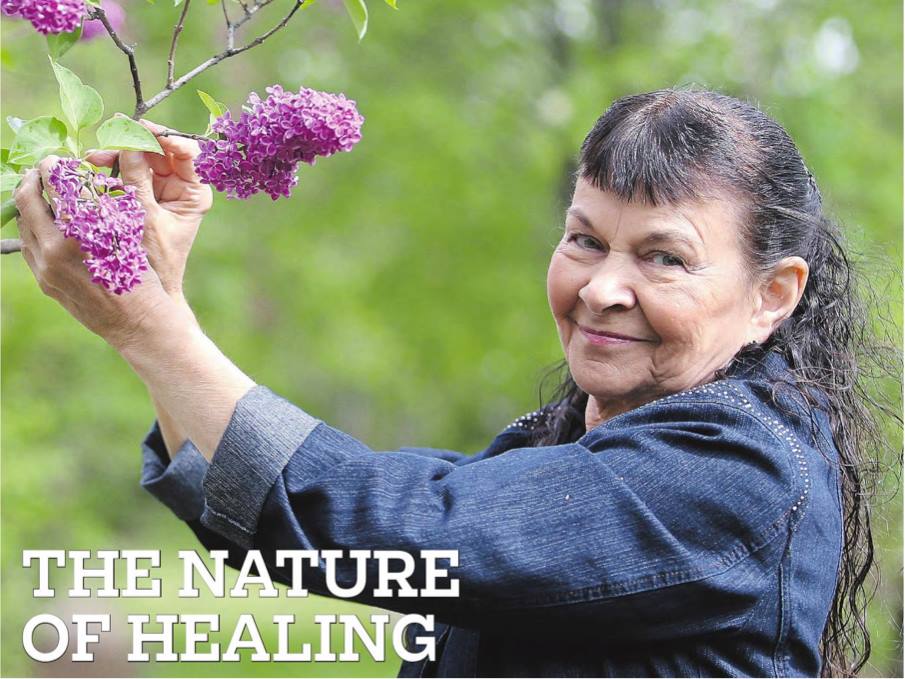 After working in a hospital setting for 14 years, Flo obtained her Master Herbalist Diploma at the Wild Rose College in Calgary, Alberta. She is a certified Reflexologist, Sclerology, Rayid, Iridologist, Ear Candler and Kinesiologist.  Flo Lavallie has been in private practice for over 40 years in Saskatoon, Saskatchewan. Along with that she had a satellite practice in Humboldt for 17 years, and prior to that, had a satellite practice in Duck Lake for two years.
Flo's approach to healing transcends conventional boundaries as she works with: individuals, families, organizations, and communities, and in the equine world as well. Flo takes her work into churches, schools, private homes, and community centres as well as hospitals and clinics. She is a Mentor for SWITCH- Student Wellness Initiative Toward Community Health and teaches Aboriginal women programming. She is honoured to work with various local First Nations communities where she is invited to offer her services as an herbalist at community clinics.
Flo's other herbal passion is horses. She is a lifetime member of the Chuckwagon Association and takes time away from her busy clinic schedule every summer to work with the chuckwagon horses at the Calgary Stampede (2021 being her 40th year) and was featured in a documentary on the subject.
Flo is a constant reminder that true holistic healing goes beyond the individual to healing the system. In addition to her large & busy practice, she lobbies the government tirelessly in her efforts to build a holistic health facility for Saskatchewan: Companion Health Oasis Inc. and The Saskatoon Healing Connections Centre.
Flo has published two books: "Sharing Health and Wellness" & "Good Health Cooking in the Pot", & is a freelance writer for Eagle Feather News. She was a regular guest for years on the "Let's Talk Saskatchewan" radio show.  Flo has been nominated for several awards: YWCA Women of Distinction, Saskatoon Women's Hall of Fame, Saskatchewan Centennial, and the Saskatchewan Health Excellence Award. She was honoured as an Herbal Elder by the Canadian Council of Herbalist Associations (CCHA) in 2015. She also worked on a hockey documentary several years ago.
Flo has done a tremendous amount of work supporting her community. Her energy, resolve and dedication are a true testament to the power of herbalism and herbal medicine.
Learn More About Wild Rose Alumna Flo Lavallie, her Saskatoon clinic, her work with horses, her community work and activism.
https://www.facebook.com/FloLavallie/